Ritchie's Newsletter
Corner Cafe Girl
In recent years I had been working in the Wakatipu region in southern New Zealand. This is an area where people enjoy adventure activities and have the opportunity to view many aspects of scenic countryside.
The towns of Queenstown, Wanaka and Arrowtown are located within the Wakatipu – Wanaka has a small airport, which hosts the Warbirds over Wanaka biannual air show.
It was here, on a typical afternoon, that I decided to pop in for a coffee at the little cafe on the corner of the entrance road, after completing some aviation work in a nearby hangar.
I'd frequented this cafe many times in the past, and was familiar with it's American type 60's decor, with pictures of Hollywood celebrities, cars, motor bikes and planes.
It felt like a relaxing change from my normal afternoon, the young girl behind the counter, made up my latte with a warm smile, and showed genuine enthusiasm in serving all the customers in the cafe.
I enjoyed the free tranquil atmosphere, away from my normal conservative aviation environment – yet the place held and showed the history of aviation.
The Corner Cafe and the atmosphere provided the inspiration to record the feelings I felt and the atmosphere I experienced on that day.
Ironically I sub-consciously wrote the song with an unintentional reggae type rhythm. This reggae is heard in some parts of the song.
At the end of March 2018 Wanaka airport will play host to the 30th anniversary of the Warbirds over Wanaka air show, an inspiration of one of NZ's favourite sons – Sir Tim Wallis. No doubt the Corner Cafe will be busy with the thousands of people attending over the Easter Weekend
CORNER CAFE GIRL was written in 2012 – it was about the 20th song I've composed – but I felt it was an appropriate time to release, near the time of the 15th Warbirds over Wanaka air show, and the fact that, in a way, it relates to my professions.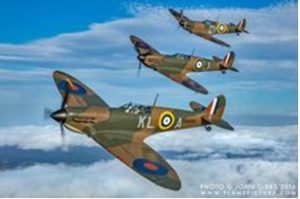 Best Wishes – Ritchie