Ritchie's Newsletter
Tranquility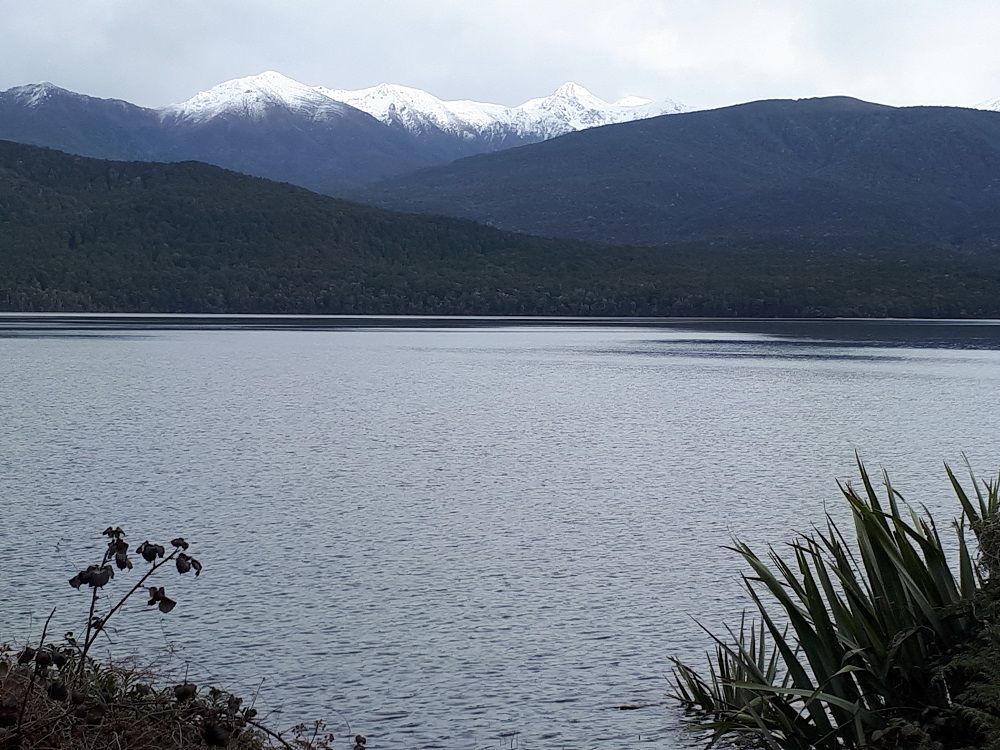 It had been many years since I'd ventured to Te Anau – the gateway to our
vast Fiordland wilderness of NZ, where some parts remain unexplored.
The quaint little town felt ghost like; we had the place to ourselves;
there were no hordes and swarms of overseas tourists swamping the place.
As a welcome change from recent years – it somehow felt good.
I felt proud to be a New Zealander to have such gems;
places and values that we treasure and must continually fight for to maintain.
The tranquillity here was reflected clearly as I greeted each day
in the early morning, jogging along the lonely lakeshore
watching swans awaken each dawn.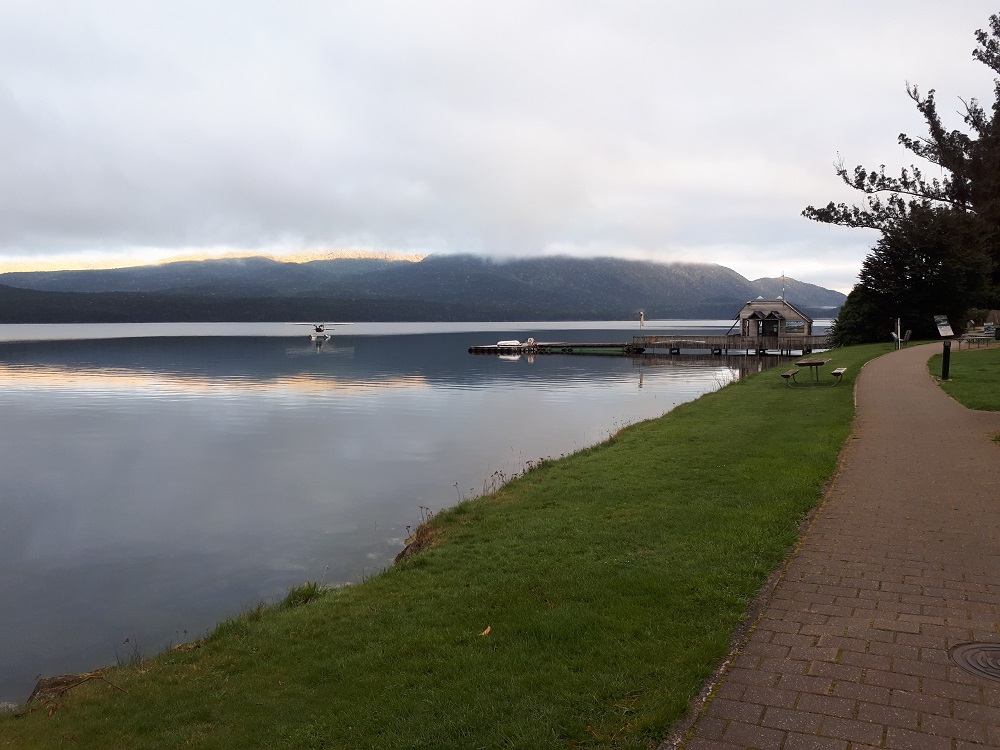 A tourist aircraft lay quietly at it's moorings on the calm lake waters.
It was similar to the ones that I used to take tourists on flights
through the mountains years ago, though mine had wheels instead of floats!
On clear cloudless days the experience of seeing this scenery
from the air was like a trip of a lifetime for tourists.
I was also never tired of flying over the same demanding mountainous terrain;
there was always something different to see.
I recalled one scenic flight when cloud curtailed
our normal coastal flight route, from Doubtful Sound to Milford Sound.
Carefully considering my available options, to give the tourists
their anticipated paid experience of our wonderland,
I chose to fly over terrain deep in the heart of the Fiords;
some parts I'm sure that had not felt the footprints of man.
The distinct reassuring prominent protruding western arms of Lake Te Anau,
which I consciously kept in view, within gliding distance,
were my potential lifeline for a ditching if required;
a welcome escape in the unlikely event of a forced landing.
We would be better to be cold and wet, and secure in a known locality,
than perhaps tangled amongst tops of tall trees in a remote wilderness valley.
Those visions and memories came back clearly to me as
I witnessed these tranquil dawn mornings.
The world is still going through what some describe as a realignment.
Much frustration and uncertainty is abundant.
Many people have their own experiences to relate from
the issues thrust upon us in early 2020.
It is difficult at times for me to feel the creativity
I have been accustomed to over the years;
like an energy flow that has become stagnant.
But the songs are till there – slowly ebbing their way to fruition.
Everything does take time.
Tranquillity may be the beginning for finding required resolutions,
for us to return to a form of acceptance,
living perhaps not quite as we have been accustomed to.
Whatever the outcomes, it could be a better way of life for us all.
Patience perhaps is what the world is asking.
Nature will provide and resolve for us.
Nature wins; it always has and always will.
I cemented that fact in my mind
every time I climbed into the cockpit of an aircraft.
I never challenged the elements, I believed that we
never have had real choice or options to change nature.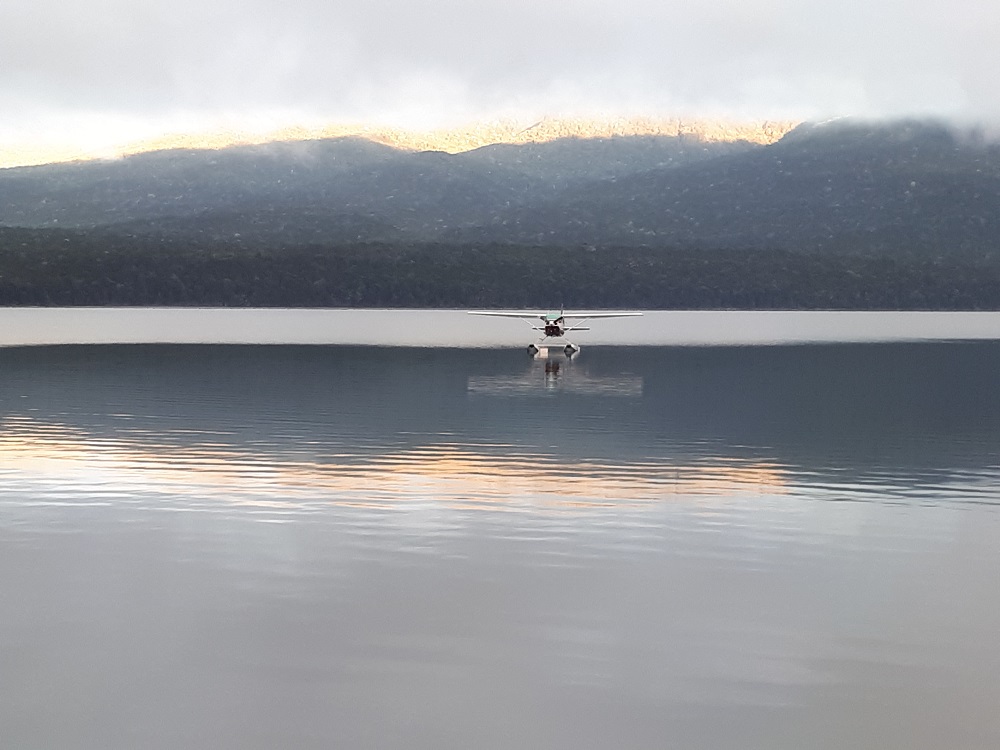 The aircraft on the lake waits for its engine to roar again into life
to thrill curious people and show them unfamiliar scenery.
Meanwhile, the swans, who have in the past witnessed unnatural
and over stimulated excitement, I'm sure are now grateful of the surprise change
and quiet tranquillity, that we have now permitted them to experience,
as they patrol the shores guarding the gateway to our beautiful environment.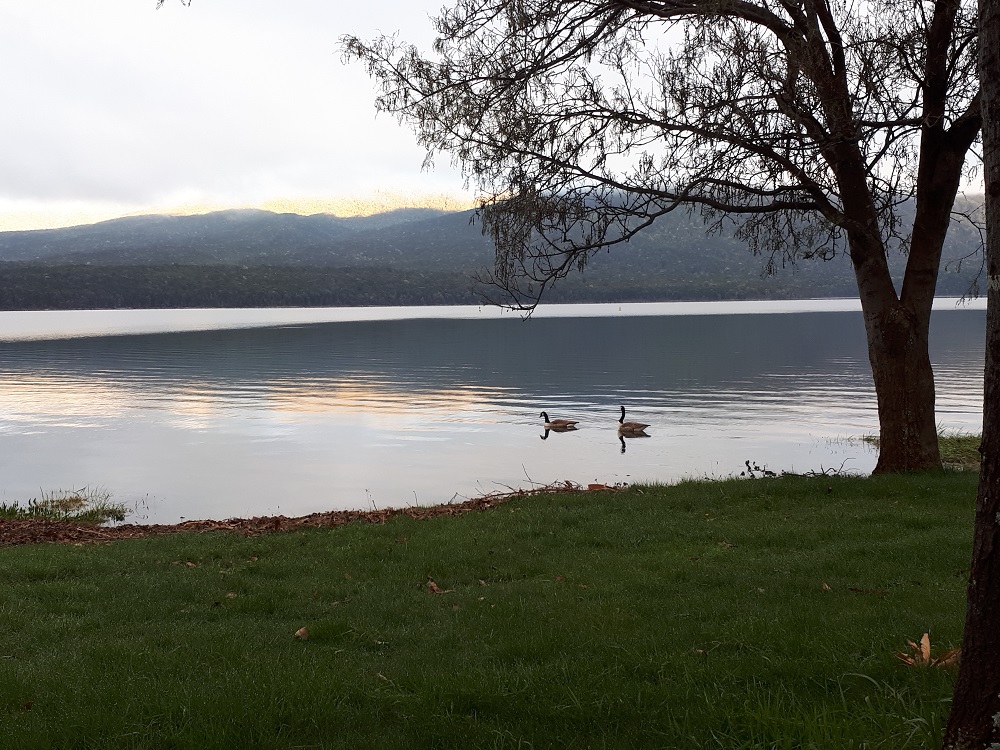 Best Wishes – Ritchie